e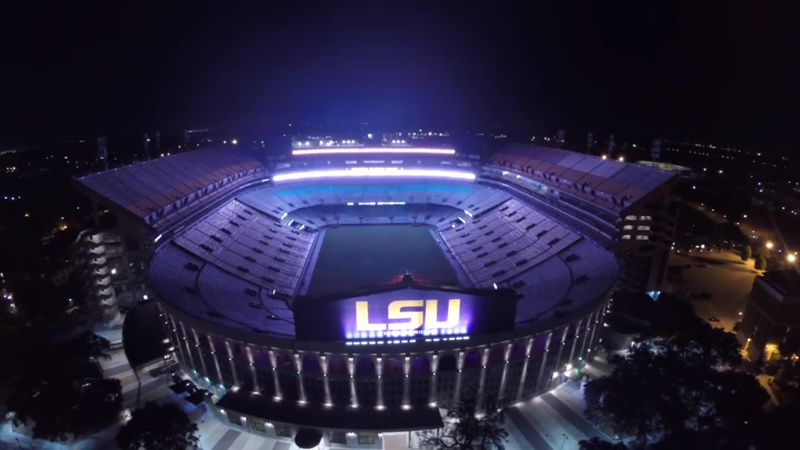 Pilot Episode: Carlos Rosso (Tiger Stadium, Baton Rouge, LA)
"It's Saturday Night……in Death Valley"
(The show opens with a montage featuring "Home" by Marc Broussard as Erica Ford, a former EAW Elitist, gets up in her own residence and rushes to an airport, her first stop being the stomping grounds of her trainer and the current EAW Interwire Champion, the so-called "Champion of Life": Carlos Rosso: The campus of Louisiana State University)
Hey guys. I'm just as surprised as you are that I'm not fired from EAW yet. This is Erica Ford, former Elitist and now journalist and occasional ring announcer for Elite Answers Wrestling and this is a very special project that I've been working on: EAW Homecoming. In the coming weeks and months ahead, I will be giving you a new look at all your favorite Elitists as they take me to places that mean so much to their personal development into the athletes and performers that you all know and love. We'll visit people's homes, their wrestling schools, and any place that gets you closer to understanding who they are as people. My first guest is someone that I'm familiar with, my former trainer and the recently crowned EAW Interwire Champion, Carlos Rosso. The venue: Louisiana State University's Tiger Stadium, where Carlos brought me to meet over 102,000 of his closest friends and share what his college experience truly meant to him and how it helped create the "Champion of Life".
(As clips of the empty venue filling and the sun setting in the west, Carlos Rosso recites a poem that best describes a place that he holds so dear.)
It is a pantheon of concrete and steel.
It is a city that rises defiantly in the Delta, alongside the father of waters.
It is the humidity of Autumn evenings, the great stately oaks and broad magnolias.
It is haunted…and it is loud.
It is Halloween Night and Cannon blasts.
It is a Louisiana gumbo of humanity that cheers its Tigers to victory…
And destroys the dreams of invading foes.
The chance of rain…is never.
It is the cathedral of college football…and worship happens here.
When the sun finds in the Western Sky.
It is a field of glory, for sure, but much more than that.
It is a sacred place.
And it is Saturday Night……. In Death Valley.
(As the poem's voice-over ends, the viewer gets a taste of just how loud the venue is as the home team takes the field, Erica covering her ears as the crowd roars in approval and the "Golden Band from Tigerland" plays, Carlos standing on the sidelines near the student section, arms folded in approval as he smiles, looking on. After a brief montage of LSU's triumph over Texas A&M, one of their many rivals, the stadium slowly empties out, eventually leaving Erica and Carlos alone in the stadium, sitting near midfield.)
Erica: I've never been to a game here, it was quite an experience! For someone who has never been, who has never really experienced this place, can you describe it, Carlos?
Carlos: It's something that you must feel for yourself. When you go to school here, it just remains in your DNA for some time. I remember everything about my time here. There used to be an arcade and a bowling alley in there, that's where I played Street Fighter III with all my gaming friends. I remember moving into Kirby-Smith Hall. They called it the "Prison Dorm" because it is one of those massive high-rise buildings that looks like it could be a prison instead of a dorm, yanno? Didn't help it's reputation that it was an all guy dorm. I remember walking through the quad, sitting in the Greek Amphitheater, hearing the band practice as I walked to and from class. It's a wonderful time that really helped build my personality and outlook on life. I wouldn't change a minute of it for the world.
Erica: Why did you choose this place to come home to?
Carlos: No matter where I go, no matter what venue I perform in, this will always be the most passionate, the most energetic crowd that I've ever been in front of. I wrestled in this stadium once, about seven years ago now, and I've been lobbying hard to come back. I don't know if EAW will ever come here again, but if they do and I'm on the card, it may be my last match. I've done everything that I consider truly worth doing in wrestling but there are two venues I'm desperate to perform in one more time at least before I hang up the boots for good: The Tokyo Dome and Tiger Stadium.
Erica: Football seems to have played a big role in your life.
Carlos: And you want to know the funny thing? I never played a down of organized ball in my life! (laughs) But yeah, football is something that I really borrow a lot from. You know how many wrestlers look up to a Ryan Adams or a Jaywalker or someone like that for how they address people and connect with people, honestly, I kinda view football coaches in that same light. Nick Saban, Les Miles, Eddie Robinson, Bobby Bowden, Dabo Swinney, Steve Spurrier, you could go on and on and on. I look at how they lead people, how they command the respect of people, how they treat people how they should be treated, most of the time anyway, and how they sprinkle in bits of humor and intensity. That's is my wrestling persona.
(Carlos and Erica walk down the sideline together as their conversation continues.)
Erica: Any particular memories in this building?
Carlos: Two. 2004 when we played Oregon State here. It was after the National Championship season and fans were going mental. We had this massive downpour before the game then an hour delay. People in Baton Rogue like their liquor so a few people got bored and started streaking or fighting. Won the game with a massive comeback in the fourth quarter. Poor kid from Oregon State missed three extra points, last one was in overtime.
Erica: What was the second?
Carlos: I snuck in here to play football with some friends that same year. I have no idea how we didn't get caught but, then again, security was a little laxer then. We didn't do anything crazy or anything, just came in, threw the football around a little bit then shot the breeze. I think a few poor bastards got caught last year doing the same thing and they got arrested. (Laughs) I felt bad for the boys and offered to get them bailed out but apparently it wasn't that much. Hopefully they dropped the charge, yanno? All kids do dumb stuff here and there.
(As Carlos and Erica exit the stadium, Carlos heads over to the enclosed habitat of Mike the Tiger, Louisiana State's live tiger mascot. Even though the tiger is sleepy, it seems to notice Carlos and stares over at him lazily as Carlos looks back with a smile.)
Carlos: There are a lot of things that people don't know about Baton Rouge or LSU. One thing that I always tell them is that LSU is close to one of the most dangerous neighborhoods in Louisiana. One wrong turn and you could be in over your head in a hurry. That's a lot how life is, honestly. There's not usually much separating greatness from abject failure. I've been on both sides. I've been at the top of the wrestling world, and I've been at the bottom. Rehab, legal issues, therapy, whatever. One reason why I wrestle, even though I'm a "bad guy", is to show that its never too late to make right on your potential. It's never too late to a Champion. And it's damn sure never too late to make an impact on someone's life. This place had a massive impact on me, and now it's my turn to hopefully inspire someone else to reach for their dreams as I have.
(As the lights finally dim and leave Tiger Stadium empty, silent and dark, the scene fades to black and "Special thanks" credits are given to the city of Baton Rouge and the campus of Louisiana State University before the EAW logo flashes.)